I love making stuff for my girl. While surfing through Pinterest, I found a pattern for a super cute skirt made out of a bandana. I headed straight to the store to find a bandana so I could make one for her! They were 2 for $2 or something ridiculously cheap like that at Wal-Mart. Score!
It was the easiest skirt ever to make. Basically I just folded it in half and cut it so I had 2 pieces. Then I sewed the sides together so I had a big bandana circle. Then I folded the top down twice, ironed it, and sewed along the bottom seam, leaving an opening for elastic. Then I inserted the elastic guided by a safety pin, sewed it together, sewed the hole where the elastic was inserted closed, and I was done!
Here's a picture of The Girl modeling her new skirt.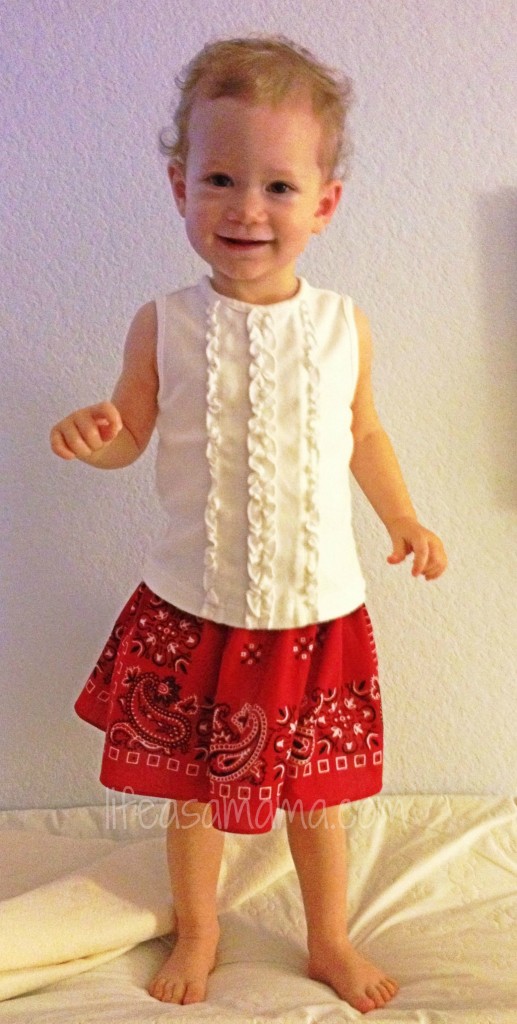 Here's a link to the instructions I found on Pinterest. The author of the instructions I found added extra fabric to the bottom of the skirt to make it longer. I didn't do that. The Girl is still a shortie, so extra fabric would have made the skirt too long. Anyone can make this! If you want to learn to sew, it's a super simple first project.